Join us at our next live band showcase in Long Island
For an experience that's anything but ordinary…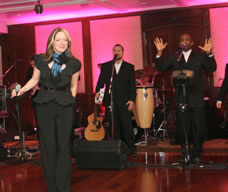 Planning for a wedding and not sure which band to choose?
The best way to experience a wedding band is to see them perform live. At Skyline Orchestras, we guarantee you will be entertained and appreciate our excellent musicianship. Our showcases are fun, informative, and we cover nearly every musical style possible.
NOTE: Showcases are one hour, and we'll stick around at the end to answer all your questions.
[events_show type="default" order="thetime ASC"]
Video Presentation
By Appointment Only
Manhattan 330 W. 38th St. Suite 802. New York, NY 10018
Long Island 85 Widgeon Ct. Great River, NY 11739
 (631) 277-7777
 info@SkylineOrchestras.com

---
Directions To Venues That Host Our Showcase Performances
Please choose a venue.

---
"Woodbury

884 Jericho Turnpike

Woodbury, NY 11797
(516) 692-6200

"The

585 North Broadway
Jericho, NY 11753
(516) 931-2201

Take the L.I.E. to Exit 41 North (Route 106/107). The Milleridge Inn is a quarter mile down on the right.

"Westbury

1100 Jericho Turnpike
Westbury, NY 11590
(516) 333-7117

From the East: Take the L.I.E. / I-495 West to Exit 40 West. Merge onto Jericho Turnpike / NY-25 West toward Mineola. Make a U-TURN at Carle Rd onto Jericho Turnpike / NY-25 East.

From the West: Take Northern Pkwy East via Exit 38 toward Meadowbrook Pkwy. Take the Glen Cove Rd North Exit 31- toward RT-25. Turn Left onto Glen Cove Rd. Turn Right onto Jericho Turnpike / NY-25 East.


"EKO

360 Commack Rd
Deer Park, NY 11729
(631) 243-4250

Heading East on L.I.E.: Take Exit 52 South, Commack Road, for 3.3 miles. Over the railroad tracks, past second traffic light (Grand Blvd, 7-11 on the left). About 200 feet after Grand Blvd there is a small industrial park on the right with a business directory, 360 Industrial Square, located behind Alba's. Make a right into parking lot. EKO Studio is on the left side of parking lot.

Heading West on L.I.E.: Take Exit 53 and continue west on service road to Commack Road. Left on Commack Road, taking Commack Road south for 3.3 miles. Over the railroad tracks, past second traffic light (Grand Blvd, 7-11 on the left). About 200 feet after Grand Blvd there is a small industrial park on the right with a business directory, 360 Industrial Square, located behind Alba's. Make a right into parking lot. EKO Studio is on the left side of parking lot.

Northern State Pkwy to Exit 43 South (Commack Road). Take Commack Road south, pass under LIE, travel 3.3 miles. Over the railroad tracks, past second traffic light (Grand Blvd, 7-11 on the left). About 200 feet after Grand Blvd there is a small industrial park on the right with a business directory, 360 Industrial Square, located behind Alba's. Make a right into parking lot. EKO Studio is on the left side of parking lot.

Southern State Pkwy to Exit 39 North (Deer Park Ave / 231). Take Deer Park Avenue north 3 traffic lights (1/2 mile) to fork in road. Bear right at fork (Commack Road, Commack). Pass 3 more traffic lights. 100 feet after the third light (Matty T's bar on left) there is a small industrial park on the left hand side (with a business directory) 360 Industrial Square. Make left into parking lot, behind Alba's restaurant. If you get to a 7-11 you went too far.


"Carlyle

99 Quaker Meeting House Road
Farmingdale, NY 11735
(516) 501-9700

From the Northern State Parkway Eastbound take to exit 36A and Westbound take exit 37A to Route 135/ Seaford-Oyster Bay Expressway.
Take Route 135 / Seaford-Oyster Bay Expressway South to exit 8 (Powell Avenue). 
Make left turn off exit ramp at stop sign.
Continue to traffic circle and go 1/2 way around (2nd right).
Follow signs to golf courses and Clubhouse.
Carlyle on the Green is located at the Clubhouse.

From the Long Island Expressway Take to exit 44 South (Route 135 / Seaford-Oyster Bay Expressway) to exit 8 (Powell Avenue).
Make left turn off exit ramp at stop sign (Powell Avenue turns into Plainview Road once you make the left).
Continue to traffic circle and go 1/2 way around.
Follow signs to golf courses and Clubhouse. 
Carlyle on the Green is located at the Clubhouse.

From the Southern State Parkway Take to exit 31N (Bethpage State Parkway). Continue to the end, past exit B4.
Bear right and follow all signs to golf courses and Clubhouse.
Carlyle on the Green is located at the Clubhouse.


"The

214 Jericho Turnpike

New Hyde Park, NY 11040
(516) 354-7797