We'll take care of all your music and entertainment needs
For a wedding reception you'll never forget…
Since 1987, Skyline Orchestras has provided its clients with first class music and entertainment. The concept behind our company has always been to provide exceptionally talented, well rehearsed bands and ensembles, who can not only reproduce the sounds of any recording artist, but are enthusiastic about making your wedding reception the very best it can be.
Having performed at thousands of weddings, corporate dinner dances, fundraisers, and holiday events, Skyline Orchestras has built an unprecedented reputation.
---
Our bands include:
Code Bleu, Rhapsody & Skyline. These are thoroughly rehearsed, set working groups, where the members are always the same. The bands range from seven to eleven pieces, covering the musical styles from every era. They include today's current hits, Classic Rock-n-Roll, Rap, R&B, Club, Hip-Hop, Motown, Alternative, 70's Disco, Top 40, Country, Swing, Big Band, 50's, 60's, 80's, 90's, 2000's, Latin, Jazz, Jewish, Italian and much, much more.
---
Our specialty ensembles feature string trios, quartets, steel drums bands and various Jazz ensembles including Jim Altamore, New Yorks finest Frank Sinatra impersonator.
---
If a
Disc Jockey
is what you're looking for, we also provide first class DJ entertainment featuring a variety of MC's to match your needs. We also offer various intelligent lighting packages and uplighting to help bring your reception to life.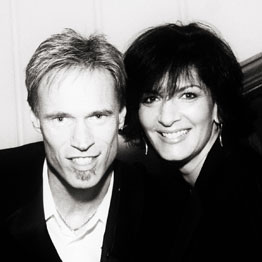 Sean & Donna Gillen
Bandleaders of Code Bleu
On a personal note..
My wife Donna and I opened up this company and put Code Bleu together over 25 years ago. It took off like a rocket and we've never looked back. We've dedicated our entire lives to being the very best at what we do and it continues to be our passion.
Code Bleu's popularity has been surging in recent years and we've been told repeatedly by brides that we're widely recognized as "The band to have". However, what most people don't know is that we've had that reputation for many, many years (yes, even before wedding websites). Why is this so important? Well, Code Bleu has been doing between 95-105 weddings every year for over 25 years and every one of those brides has had at least a few requests. The amount of material that we've covered is staggering. So, when the time comes to prepare for your wedding, most of what you're looking for is already in our repetoire. This enables us to cater to very specific requests when needed (see testimonials). Code Bleu has been learning popular and obscure music on a weekly basis for over 25 years and not much has slipped by.
We maintain an impeccable reputation by consistently going above and beyond what is expected. It is very rare to find a band of multi-talented musicians working together like a family, who are more dedicated, cohesive, and proud of what they do. Nobody here just 'shows up for a gig', every performance is treated like an event or a show with intense and articulate preparation. Every member of our band is always well aware of the details specific to your affair and they each understand completely how important this day is to you.
Perhaps the reason Code Bleu retains such a level of popularity is because Donna and I have spent the better part of our lives making people happy on their wedding day. We throw the best party possible while accommodating all your various musical needs, helping with decisions and being an overall friendly, experienced ear to lend a hand.
The musical planning of your wedding should be fun and we're here to make sure you don't lose sight of that.
All the best,
Sean and Donna Gillen