You name it, we play it!
We cover nearly every musical style possible…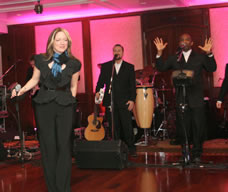 Part of the fun is creating a song list for your wedding celebration. We make it easy by giving you a list of the top songs from every genre, from Big Band to today's hottest club hits.SPECIAL REQUESTS: Let us know if you have any special requests, such as customizing a song with your own lyrics or a certain tempo.
* Please note that many contemporary dance songs fall in and out of favor so quickly that they never make it to our song list! The band learns new songs on a weekly basis.
---
Dance ♫ Motown
[table id=1 /]

50s
[table id=2 /]

Country
*Many Country songs are in the "Ballad" section.
[table id=3 /]

Swing ♫ Latin
[table id=4 /]

Ballads
[table id=5 /]

Ethnic
[table id=6 /]

Jazz
[table id=7 /]

Waltz
[table id=8 /]